Puffin 2021
2021 is the year of the introduction of the complete new Puffin range. The line of Puffin yachts will be limited to 3 standard models: 42, 50 and 58. These models will be built in centerboard and fixed keel versions. They have had a total facelift to make them more contemporary while keeping their distinguished lines that make a Puffin a Puffin. Furthermore we developed an interior that allows us to produce it in a more sophisticated and economic way, which results in a competitive price for the yachts. An owner can still customize his/her yacht in to a large extend, when it comes to layout , material, colors, rig etcetera.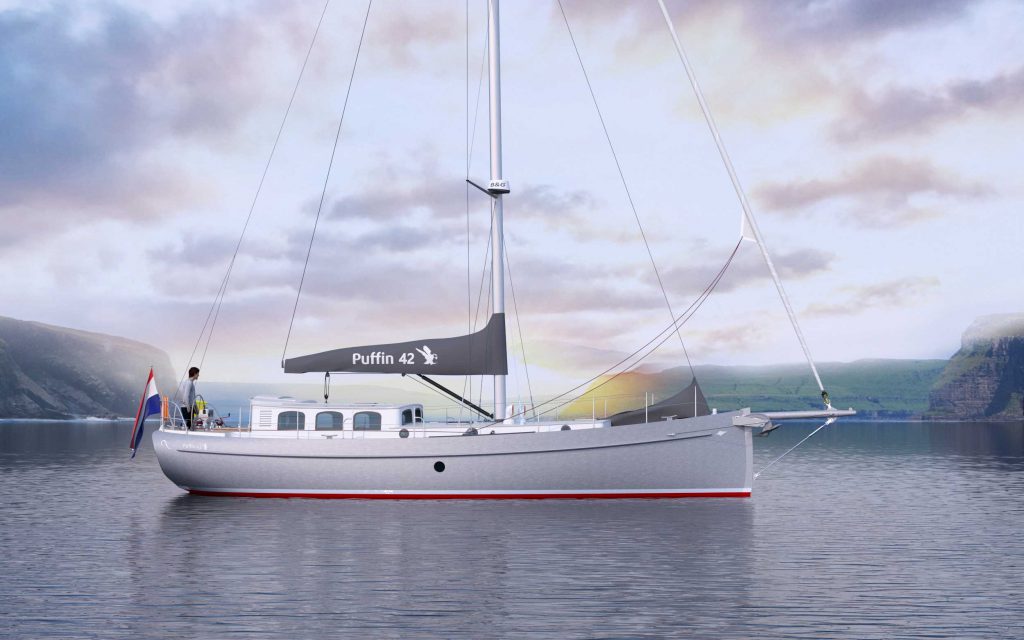 Over 25 years often copied, never beaten.
Puffin® yachts are designed by Olivier van Meer and built by VMG Yachtbuilders. The keywords for the development of the Puffin® range were: space, speed, easy to handle, able to dry out, strong and safe. Puffins® are always build in aluminium. Although the concept is very specific and unique, each Puffin® is fully customized to the wish of her owner combined with the huge experience of the puffin history. What connects all Puffins®, however, is the individual execution, the detailed guidance by the designer and the very high quality and perfection of the builder.
Request more information
The exterior
Specifications
| | |
| --- | --- |
| Type | Puffin® 42, Bermuda cutter |
| Construction | Full aluminium hull, deck, bulwark, decksaloon and cockpit |
| CE Category | A |
| Hull | Round bilge, classic heart-shaped transom, tumble home and straight cutter stem |
| Keel | Centreboard with fixed bulb keel & lead ballest or electric keel with manual hoisting belt. |
| Rudder | Aluminium spade rudder with heavy rudder stops |
| Length over all | 15.55 m |
| Hull length | 12.72 m |
| Waterline length | 11.77 m |
| Beam | 4.20 m |
| Draft (Fixed keel-Centreboard) | 2.40 – 1.10 m/2.86 m |
| Displacement at ½ load | 16 ton |
| Ballast | 4 ton |
| BERTH | 4 (6) |
| FRESH WATER* | 600 L |
| BLACK WATER TANK | 100 L |
| Fuel (diesel)* | 600 L |
| ENGINE | Volvo Penta D2-75, 75 hp. MS25L reduction gear |
| STEERING | Wheel |
| RIGGING | Bermuda cutter |
| SAIL AREA | 120 m2 |
| AIRDRAFT | 18.90 m |
| Price: | Starting from €820.000,- ex. VAT |
* Fuel and water tank volumes are based on the standard fixed keel version.
For the centreboard version it will be approximately 20% less.
Highlights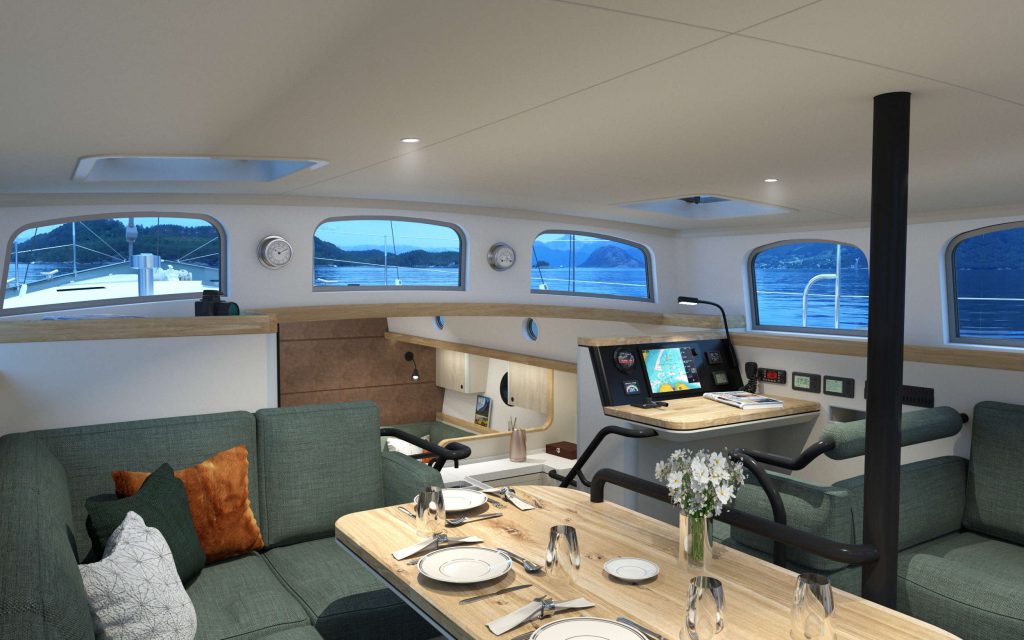 The first real decksaloon
The Puffin® design was one of the first sailing yachts in The Netherlands and around with a real spacious deck saloon. This means that one has a panoramic 360 degree view while seated or standing in the deck saloon.
From this 'heart' of the Puffin® the transition to the cockpit, lower saloon and galley downstairs merge so smoothly that they belong together as a whole. This creates a large, comfortable and seaworthy living space.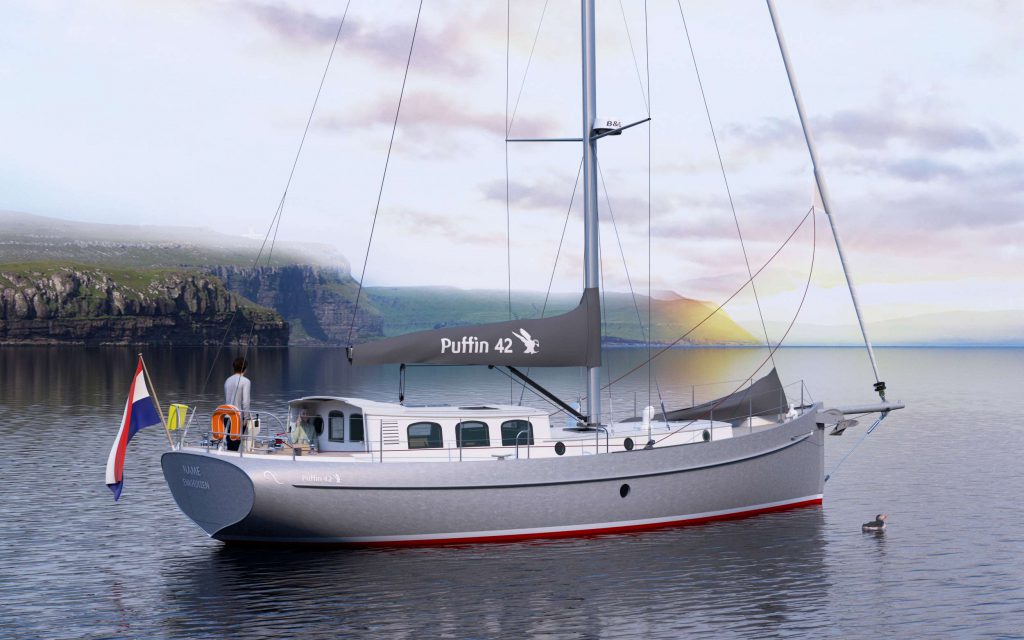 Cockpit & shelter
A safe and comfortable cokpit with a fixed shelter aft of the dek saloon.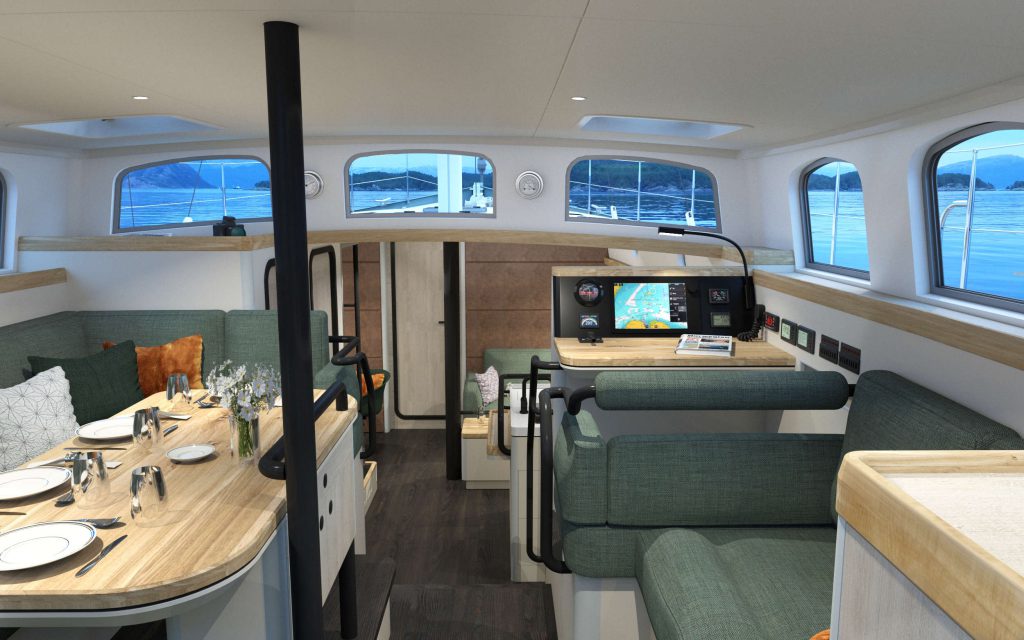 Watertight bulkheads
The 3 bulkheads; forward bulkhead, engine room bulkhead and aft peak bulkhead (forward of the rudder bearing) create 4 water tight compartments.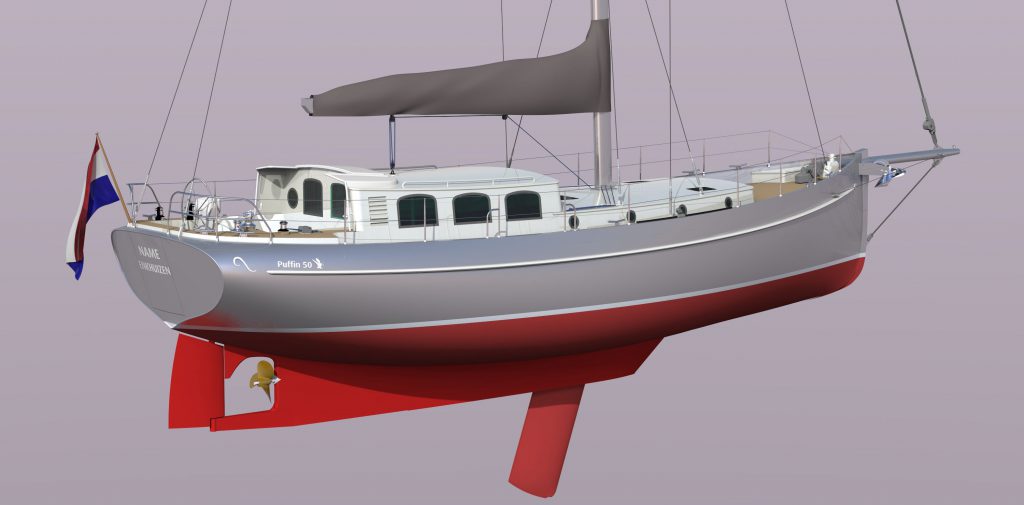 The Ultimate Centerboard (option)
In his sailing life, Olivier has learned that the most beautiful places are always where the draft of your ship often does not allow you. He has also brought many ships into the shallowest corners. He knows better than anyone what a keel has to endure. The development of his centerboard arose from these experiences. The system, which has been proven for several decades now, is based on simplicity and robustness.
The keel is operated with an electric and back-up manually operated hoisting belt. The keel immediately runs free in the event of soil agitation. The keel is placed in a special bearing frame so that the keel itself does not touch the box. The entire unit can be inspected while lying in the water and easily removed standing on the dry The proof of its robustness is the fact that after 20 years of worldwide use by about 60 Puffins®, 1 webbing sling has been replaced for the first time. Furthermore, never a defect or damage.
About Puffin®
The building of a Puffin® Yacht is always a semi-custom project. Fixed are the outspoken characteristics like the bowsprit, window shape, slightly negative stern and tumble home. All of these details together guarantee for excellent sailing characteristics and its sturdy, classic looks. Apart from that anything is open for discussion with the designer. As a logical result every Puffin® is different and unique in its kind.